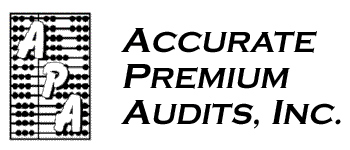 The Audit Solution
Accurate Premium Audit Procedure
Premium audit services will be conducted in a professional manner following the established rules, procedures and regulations of the National Council of Compensation Insurance and other local, regional and national regulatory agencies. APA will actively seek out risks with any potential for premium audit fraud and any such cases will be well documented and immediately reported.
APA's standard audit procedure is to supply our customer with an accurate audit within a mutually agreed upon time service standard always maintaining a less than 10% delinquency ratio. Our dedicated staff will ensure proper classification of all exposures through a technical analysis which determines proper separation and allocation of payroll. This process will be completed through direct interviews, review of all appropriate documentation, reconciliation and final verification. Audit scheduling is completed by sending notice of the appointment to the insured and a follow-up phone call will be made prior to the appointment. All unsuccessful attempts will be documented and progress reports will be sent out. Two attempts with the insured and one attempt with the agent will be conducted prior to returning an audit as non-productive.
APA's quality control program consists of a complete review of the audit for completeness and accuracy by a qualified audit reviewer. Each auditor is required to maintain an error ratio of less than two percent (2%) and meet all other standards of quality.
The above procedures may be customized to suit the unique needs of our customers
Accurate Premium Audits Inc.
PO Box 5512 • Laconia, NH 03247 - 5512
Phone 800-633-8447 • Fax: 603-645-8444 • Email: apa@apaaudit.com